Is meshery operational on virtual machine ?
(on ubuntu system or any other supported system)
Yes, its operable on Virtual Machines too.
Oracle VM Virtual Box, VM Ware and other VMs/providers also work

Few other things I thought would be helpfulfor you to know about,
Works on Cloud Based as well as Local based VMs also.
If your PC supports multiple VMs running simultaneously and can handle the capacity, it can even run or two VMs at once.
You can also containerize the application.
If you run it on a Guest OS, having host as Win or Mac, If Host is using/running power hungry processes, I would say the below image would be the best description for that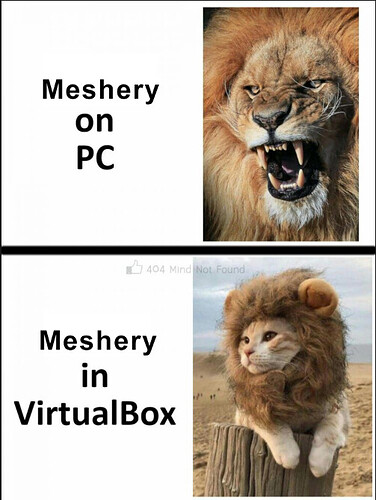 Thank you !!
I'm using virtualbox but its showing error ie.
Error:ctlK8sConnect1001:
cannot query the kubernetes API
I love the picture, the description fits perfectly.
@Siddharth_Rai, here's a link to the error code reference. Note that mesheryctl system start looks to your local user's folder for a copy of your kubeconfig (at ~/.kube/config) and uses that configuration to connect Meshery with Kubernetes.
Depending upon which you Kubernetes platform it is that you're using, you might need to run mesheryctl system config <k8s-platform-type> in order to prepare your kubeconfig for use. See Supported Platforms for more details.
@hexxdump @piyushsingariya has the requirement for an available kubeconfig been removed for Docker-based deployments?
It will be removed very soon. Probably at the start of next week!